Welcome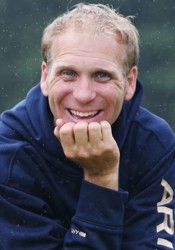 Welcome to my website. This is an opportunity for us to show you what we do and several of the different aspects involved in being an event rider, or at least how I do it! In here, you can meet my horses and the team - I am very lucky to have great two and four legged help in trying to realise my dream - a place on the British Team in a major Championship. We will also show some of the facilities that we have managed to incorporate here at Chescombe Farm and the training opportunities available.
I hugely enjoy passing on my knowledge, I am a British Eventing Master Coach and a Fellow of the BHS (FBHS), and regularly hold training clinics here at Chescombe Farm and around the country. And I am lucky to have a great base at Chescombe Farm with facilities that we keep improving, it's a great spot to train event horses from and an ideal location for easy access to our major events. I hope you enjoy the website and following our fantastic sport!
I hope this will show you that while we all work very hard, I love what I do, I'm surrounded by some hugely supportive people (owners, family and the guys that look after the horses) and I wouldn't change places with anyone. If you'd like to follow my progress click HERE for my results on BE website.
Nick